Windows 10 oder Windows 11
Deciding between Windows 10 and Windows 11?
Industrial PCs typically use Windows IoT Enterprise in the LTSC version (Long Term Servicing Channel). Compared to the desktop editions, Windows IoT Enterprise includes embedded features for certain limitations,
such as:
Unified Write Filter
Shell Launcher
Embedded Boot Experience or
Embedded log-on.
This makes the terminals safe and self-sufficient.
With the LTSC maintenance model (formerly: LTSB for Long-Term Servicing Branch), Microsoft offers bug fixes and security patches for ten years from the release date.
The basic functionality remains unchanged, which avoids upgrade and compatibility problems.
New LTSC versions appear every two to three years, have been thoroughly tested for compatibility and can be installed as an "inplace upgrade".
This means that only system files and parts of the registry are overwritten. Installed programs and personal data are retained.
The Windows 10 IoT Enterprise LTSC 2021, available since October 2021, offers the following advantages for IPC users compared to the previous version 2019:
SOFT REALTIME for real-time applications with response times of 200 ms
Simultaneous treatment of two input devices, e.g. two touch screens operated at the same time
And what about Windows 11?

Windows 11 IoT Enterprise LTSC is not expected to appear before 2024. On the other hand, an SAC version (Semi Annual Channel) has been available since October 2021, which receives a feature update every six months.
The SAC version is only partially attractive for industrial PC users, since the feature updates could also lead to compatibility problems.
In addition, the SAC license prescribes an annual update (AR = Annual Release). Otherwise the support ends after 36 months. The most important new features compared to Windows 10 IoT Enterprise, on the other hand, are manageable:
USB 4.0 support
Wi-Fi 6E support
So if you don't need USB 4.0 or Wi-Fi 6E and don't want semi-annual feature updates, we recommend Windows 10 IoT Enterprise LTSC version 2021 instead.
What is there to consider with new devices?
FORSIS delivers Windows-based industrial PCs with the current LTSC version as standard,
as this best suits the requirements in the industrial environment.
If you want to ensure compatibility with Windows 11 IoT Enterprise for your new devices,
should choose 8th Gen Intel Core i processors (Whiskey Lake) or newer.
Because previous CPU generations like Skylake are not officially supported (status: 2/1/2022).
PROFI series with Whiskey Lake Generation
The same hardware requirement also applies to new devices that require USB 4.0 or WiFi 6e.
MOBILE series with Whiskey Lake Generation
Regular feature updates
In this case, order your FORSIS terminal directly with Windows 11 IoT Enterprise (SAC).
However, please keep in mind that you must provide an Internet connection to receive the update-dependent support.
Right picture: CPU board overview of the MOBILE series
Our recommendation
For all other cases we recommend a combination of 8 Gen. Intel Core i processor and Windows 10 IoT Enterprise 2021 LTSC. In this way you can secure both: ten years of support until October 2031 and Windows 11 compatibility for later migration.
How do I update old devices?
You want an older LTSC version of Windows 10 IoT Enterprise on industrial PCs with 6th Gen Intel Core i processor (Skylake) or earlier To update? Here, too, you play it safe with an in-place upgrade to Windows 10 IoT Enterprise 2021 LTSC. Please note: This update is chargeable.
Conclusion: If in doubt, ask
Without an LTSC version, Windows 11 IoT Enterprise is more interesting for exceptions. From our point of view, the safe bet for upgrades and new purchases for industrial PCs is the current Windows 10 IoT Enterprise LTSC 2021.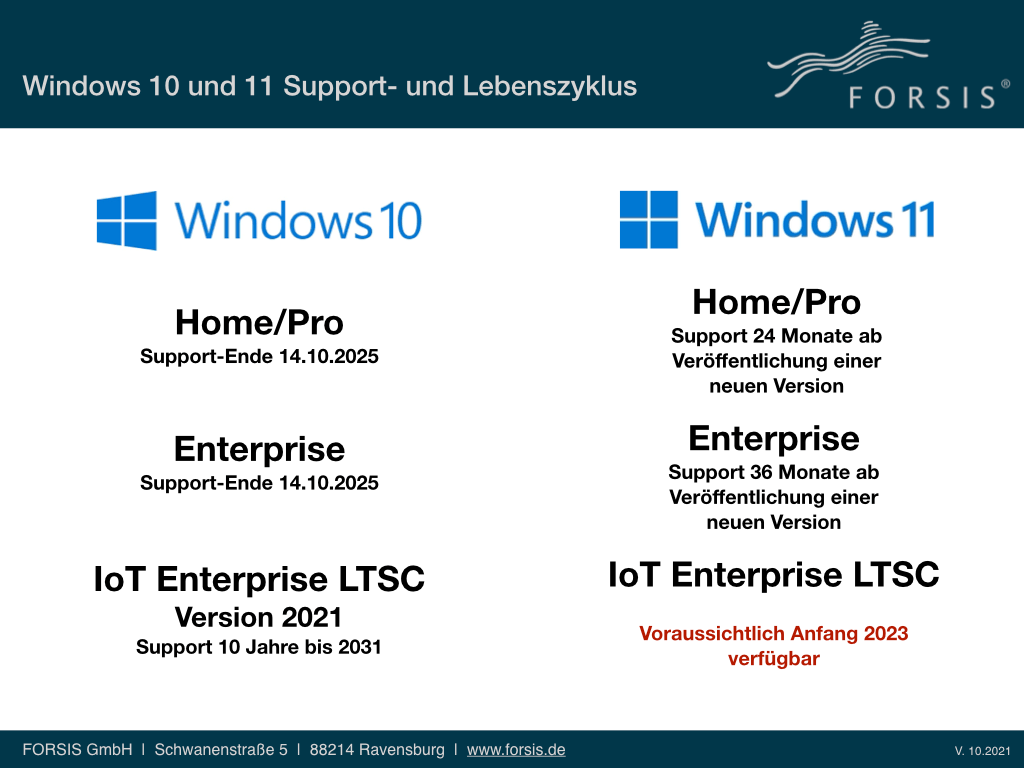 Whatever you decide: We have all the packages for image creation in-house and will be happy to send you the version you want.
Not sure yet or have questions about individual versions and their compatibility?