Forklift terminal in different variants
Do you want to introduce a driver guidance system for your forklift fleet?
The data collection in your company should also take place in your intralogistics!
Do you want to modernize your existing forklift terminals on your forklift trucks in shipping?
FORSIS offers the right platform for this with a wide range of forklift terminals and mobile workstations.
Germany is now a logistics hub for the whole of Europe. Logistics centers are springing up all along the highways. At the same time, we consumers expect delivery to take place overnight. As a result, expectations of delivery services are constantly being raised.
This can only be managed with a maximum degree of automation and warehouse logistics. The software applications you use must be implemented on logistics hardware that is characterized by reliability, performance and service friendliness.
The forklift terminals on your industrial trucks are the linchpin of a discreet relocation of pallets.
Not all forklift terminals are the same forklift terminals
Where do forklift terminals differ
The forklift terminals of the FORSIS MOBILE series have been developed to record data on forklift trucks and to provide the driver with information.
The devices perfectly combine high performance, low weight and minimal dimensions.
You must also consider the following points when making your selection:
The WLAN connection - this is where you should focus, because the connection makes the difference - FORSIS forklift terminals are equipped with a triple antenna, which is polarized in the xyz direction
The power supply - dynamic in the input and therefore stable for the forklift terminal
The attachment - forklift terminals must be flexibly adjustable, mountable without interfering with the vehicle and not in the driver's field of vision
Important properties of a forklift terminal from FORSIS
Housing is made of sheet steel, powder-coated on the outside and galvanized on the inside
The device design is compact and vibration-proof
Analogue resistive touchscreen, as a variant capacitive MULTITOUCH
Minimized wiring and no mechanically moving components
The degree of protection [EN60529] is IP65 on the front, IP54 on the connection side
Approvals: CE, FCC, vibration and shock test according to DIN EN 60721-3-5/5M3
Wireless connection: IEEE 802.11 a/b/g/n/
Temperature range: -20°C to 50°C in the standard, expandable to -30°C
Mounting is done using different mounting systems, VESA 100
The cable feed is from below, protected and strain-relieved
Power supply: typically 24V DC with an input range
Extension options: keyboards, scanners and their supply
From a technical point of view, there are worlds between stationary and mobile data acquisition devices. Based on the forklift terminals, you will find some distinguishing criteria below.
High-availability computing unit for the data acquisition devices
Compact design with robust and flexible mounts VESA 100
Fan and plateless system with no moving mechanical parts
Placement of all important interfaces with minimized internal cabling
Connection of the logistics hardware via WLAN, UMTS, GPS
DC/DC wide input range for vehicle operation, with vehicle signaling
Extended temperature range -28°C to 50°C when stationary
A vibration-resistant structure is a must for logistics hardware
Special approvals for use in road traffic
FORSIS offers its own MIMO (Multiple-Input-Multiple-Output) antenna for all device series, especially of course for the mobile forklift terminal.
MIMO antenna systems offer higher data transmission rates, longer ranges and are not only "immune" to multipath propagation, they actually make use of it. A MIMO system is therefore best suited in the logistics environment and especially for use in industrial indoor areas without a direct line of sight between a forklift terminal and an AP/router. In addition to implementing the classic standards, our goal was to develop a robust antenna (protection class IP65).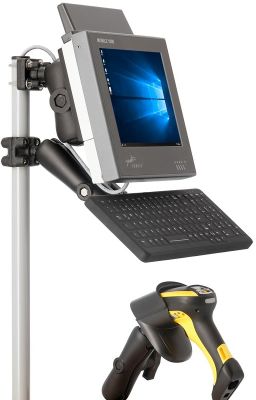 FORSIS basically supplements its logistics hardware products directly by integrating barcode or RFID readers or indirectly by adding them. In the logistics environment, these are of course the classic wired or radio-connected barcode solutions and handheld terminals. Our subsidiary KUMAIDENT GmbH in Stuttgart is at your disposal as the competence on this.
The analog resistive touch of the MOBILE series optimally combines high performance, low weight and minimal dimensions.
Due to its construction with front foil on the glass carrier, it has a laminated glass effect. This means that in the event of the touch panel being destroyed, no glass splinters can splinter outwards.
It can be operated with gloves, pens, etc.
The alternative to resistive touch is the capacitive touch screen surface, also called PCAP multi-touch technology. The front pane is designed as a protective glass pane (laminated glass) and hardened by chemical surface treatment.
Full gesture control is possible on operating systems that support it.
In addition to the compact MOBILE series, the MOBILE MF (multifunction) offers a large number of expansion options thanks to its design.
In addition to the wide range of different forklift terminals, we also offer a reduced number of industrial tablet PCs. Naturally tailored to our view of industrial data acquisition: flexible and modular.

In addition to forklift terminals and mobile workstations for logistics, FORSIS offers other approaches to data acquisition.
You can find more solutions and information here.
Intra logistics can also be increased
Due to the complex relocation of goods of all kinds, as well as the ever-increasing expectations in relation to delivery times, the expectations of delivery services are constantly being raised. The applications used must therefore be implemented on logistics hardware that is characterized by reliability, performance and service friendliness.
In addition to the highly complex systems in sorting and distribution centers, it is often the intra-logistics solutions that every manufacturing company usually has, where further optimization potential is hidden. Here, too, forklift terminals on industrial trucks and/or mobile workstations help to simplify processes.
In the manufacturing environment in Germany, all procedures and processes are being examined and optimized. Our industrial PCs are also used here. In classic machining or in hygiene-sensitive environment. This procedure is now also to be transferred to the logistics processes in the company to be automated and calls for the use of mature logistics hardware to be an absolute necessity.
The goal here is to optimize the route of the goods and the means of transport during production, always utilize the volumes and ensure the supply of those involved in the company. Forklift trucks that are optimally connected and integrated make an important contribution to this process.
FORSIS offers the right platform for this with its logistics hardware specially designed for mobile use in the form of forklift terminals and mobile workstations.
FORSIS has been offering an extensive range of different mobile workstations for years. The focus is always on a robust mechanical structure that withstands all the requirements in the harsh industrial and logistics environment. In addition, FORSIS completes its product range with mobile workstations in stainless steel for hygienically sensitive locations and with smaller mobile workstations for the assembly area.
Here is an overview of our mobile workstations: