BDE terminal of the ENTRY series - entry-level model
The requirements for the "classic" BDE terminal vary greatly depending on the area of application, and high expectations are placed on a BDE terminal, especially in an industrial environment. This must be robust and reliable in order to avoid unwanted interruptions in the processes. A BDE terminal with a high IP protection class is therefore the first choice.
In less demanding environments, where the environmental conditions are more pleasant, investments in a reliable solution are often shied away from. Instead of a professional solution in the form of BDE terminals, standard office computers with monitors are used. Although it is almost impossible at modern assembly and integration stations for metal chips to fly and for oil or vapors to be in the air, the feedback of operating and quality data must still be reliably guaranteed at all times.
It is precisely in such cases that FORSIS comes in with the BDE terminal ENTRY as an entry-level model. True to the motto: "Reliable industrial quality at the best possible price."
The BDE terminal ENTRY is particularly suitable for use in the warehouse, in simple production and packaging areas. With a display size of 15 inches and a resolution of 1024 x 768, all "simple" BDE applications are supported. Thanks to the built-in touchscreen, the applications on the BDE terminal can be designed interactively. This increases employee acceptance of the device, as everything is intuitive and easy to use.
This type of industrial PC, as a simple BDE terminal, comes into play when a large number of devices is required. Short distances to the feedback station or when order sequences and batches change quickly. The constant feedback to the MES system on a specific order in production. It can also be used to determine whether there is a machine fault and what the specific problem is. In this way, the BDE terminal can be used to take quick and targeted measures to correct the corresponding errors.
Basically, when using a BDE terminal, there is an increase in productivity, because all operational data can be recorded and queried in real time. The BDE terminal thus ensures reliable and precise recording and evaluation of all business-relevant production steps as well as the time management of the staff. With the BDE terminal, correct billing in accounting is possible later on, which is an advantage for the company itself and its employees.
The manufacturer of BDE terminals always makes sure that all the necessary requirements are met to ensure that production runs smoothly.
The special features of a FORSIS ENTRY BDE terminal
Is only offered in the 15" XGA variant (1024 x 768 resolution).
Analog resistive touchscreen or capacitive PCAP multitouch
Integration of RFID readers is possible, LEGIC© (advant), mifare© (DESFire) and hitag© are offered
Robust housing material made of sheet steel: powder-coated on the outside, galvanized on the inside
The front is designed with protection class IP65. And can be customized
Connection side IP40
Standardized mounting options with VESA100
From a larger purchase quantity of BDE terminals, we can supply you with a desired front color according to RAL. You can resell the ENTRY as an OEM product with your own inscription. Talk to us about it!
A standard board in the form factor MINI ITX is used for the motherboard technology of the BDE terminal. This form factor offers a variety of interfaces, all of which are directly accessible on the panel of the MINI ITX board. Depending on the operating system, MSATA modules are used.
Please note:
An additional strain relief for the cable is not provided
There is also no access protection
Below you will find more information about the Mini ITX Board
With 170 x 170 mm², the Mini-ITX format offers optimal dimensions for compact BDE terminals. Only the height of 44 mm means that a CPU cassette with 2 interfaces has to be implemented. With the clear advantage that the BDE terminal offers a lot of space for extensions.
The internal LVDS connection is ideal, as it offers a lossless and cost-effective connection to all common LCDs. Despite the compact connection panel, all relevant interfaces are available on high-quality Thin Mini ITX boards - for example for graphics, audio/video, network and peripheral systems.
The Thin-Mini-ITX boards of the FORSIS ENTRY BDE terminal are equipped with CPU sockets. Therefore, a highly scalable computing power must be combined with quiet and energy-efficient operation in a compact design. Mainboards such as the Fujitsu D3474-B therefore also offer enormous computing power.
Entry into the world of industrial BDE terminals
The ENTRY is the entry into the world of industrial BDE terminals. This consists of a built-in computer unit and a 15" LED display. The housing is robust and protected against dust.
A resistive touchscreen is installed to make the inputs interactive. This touchscreen technology reacts to pressure and is easy to use even when wearing safety gloves. Since the BDE Terminal ENTRY has protection class IP65 on the front, one or two splashes of water cannot harm the technology.
Directly available interfaces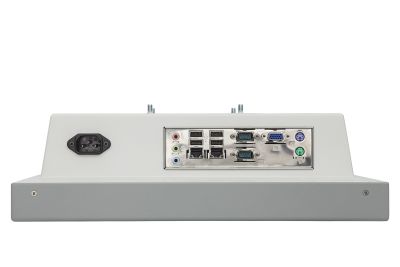 The BDE terminal ENTRY offers a variety of interfaces. These are all accessible directly on the cover of the MINI ITX board. The power supply is integrated in the housing and is therefore protected - the installation of the terminals is therefore possible without great effort.
The available connections of the BDE terminal are deliberately adapted to the interfaces that are important for industry. Two network connections are available as standard. With four USB ports, including 2xUSB3.0 ports, you can connect a variety of other input and peripheral devices. If additional monitors are to be connected, an HDMI and/or display port is available.
Additional cable strain relief and access protection are not provided for this series. You will only find these accessories in the PROFI model series.
Standard CPU technology with MINI ITX board

A MINI ITX board and current Intel CPUs are used to equip the BDE terminal. Depending on the required performance, Intel Celeron or Intel i3 CPUs can be used. FORSIS offers 4 GB of RAM as standard, which can be expanded to 8 GB or 16 GB as required.
Depending on the operating system, Compact Flash modules or MSATA modules and the classic SSD with approx. 128 GB are used - a higher capacity is possible if required. In addition, the many interfaces on the BDE terminal are easily accessible and perfectly match the simple and service-friendly housing technology.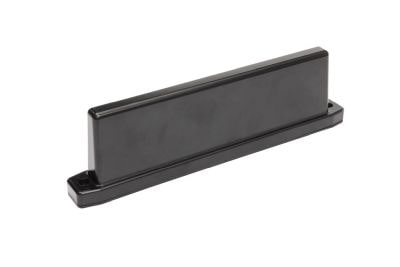 With the WLAN option, the BDE terminal can also be integrated into the IT infrastructure without a network cable. The fast and up-to-date WLAN standard 802.11ac enables easy and smooth installation. The WLAN module is also equipped with Bluetooth. Thus, for example, a Bluetooth-enabled handheld scanner can be connected directly to the BDE terminal.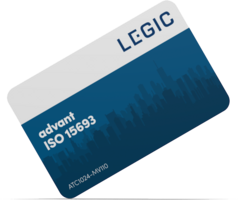 Would you like access authorization at the BDE terminal to be carried out using an ID card or chip?
FORSIS offers you another optional and security-relevant possibility to equip the ENTRY with an RFID - NFC card reader. This is integrated in the housing without the need for additional external attachments - a slim solution that is both functional and visually coherent.
We support the LEGIC© (advant), mifare© (DESFire) and hitag© reading processes in our BDE terminals. The RFID readers are programmed according to customer specifications. You are welcome to send us a test card so that we can ensure that the built-in reader on your BDE terminal is immediately ready for use when it is put into operation.
Mounting options - rear view
We offer a wall or stand bracket with tilt adjustment for fastening the BDE terminal. A VESA 100 mount is attached to the back of the housing, through which the ENTRY can also be installed on fastening systems with swivel technology. The mounting options for our BDE terminals are diverse and offer a suitable solution for even the most difficult task. We would be happy to support you in selecting the appropriate mounting system.
"Wir beantworten gerne Ihre Fragen."

Thin Client oder WEB Terminal ?

There are also "slim" operating system solutions to go with the simple and cost-attractive BDE terminal ENTRY. Windows 10 IoT or an IGEL ThinClient is used as the operating system. We deliver the BDE terminal pre-installed so that you can start setting up your applications or the thin client immediately after unpacking.
Inexpensive entry into the world of industrial PCs
Robust housing material made of sheet steel - powder-coated on the outside, galvanized on the inside
15" XGA variant (1024 x 768 resolution, 4:3 format)
Equipped with suitable Intel CPUs as required
4 GB of memory, expandable to 8 GB
128 GB SSD for local data, additional RAM on request
Protected against dust - connection side IP40, front side IP65
The operating temperature is from 0 C° to +40 C°
Resistive touch technology that works well with safety gloves
Optionally with WLAN and Bluetooth
Integration of RFID NFC readers is possible - LEGIC, MIFARE and HITAG are offered
The operating system used is either Windows 10 IoT or IGEL ThinClient
In contrast to the office PC, our BDE Terminal ENTRY is all of a piece. The compact and dust-proof housing, as well as the reduced cabling effort and space requirements, make installation at difficult points possible. In addition, a BDE terminal is operated continuously compared to an office PC, because the choice of the installed components is coordinated for continuous operation in the form of 24/7.
All components of the BDE terminal must be robust to ensure longevity. For example, hard disks are used that are protected against constant vibrations, are ideally suited for higher temperatures and are also designed for permanent operation. As an alternative to backing up data, a flash memory can of course also be used.
The integration of BDE terminals into the existing IT landscape can be done without any problems, since the technology and the software are based on optimized standards. All BDE terminals from our production have been developed for stationary use under difficult conditions.
With these measures, disruptive failures of the BDE terminals are prevented and a long service life under difficult environmental conditions is made possible.
In the end, all the advantages not only save you trouble, but also a lot of money.