Modular design in CPU technology
CPU board selection for the FORSIS industrial PCs
The change in the Intel® CPU generations from the 6th generation (Sky Lake) to the 8th generation (Whiskey Lake) had hardly been completed in our device series when we decided to have the next processor generation, the 11th generation, for mid-2022. (Tiger Lake) to introduce.
We admit we were forced to.
Availability of the CPU technology in the FORSIS model series
The availability and delivery times of FORSIS industrial PCs primarily depend on the availability of the motherboards. In the past, it always seemed best to us when the customer changed the industrial PC because the performance no longer met the requirements of the operating system and/or the application. Currently here is WIN10 bzw. WIN11 the driving force behind such a new investment.
Until Corona and the currently problematic delivery situation in 2022/23, the fact that a motherboard should be available for at least 5 years was an important argument in the purchase decision.
Today the question is more and more: "What is available when?"
Overview of the current FORSIS CPU variants
Below you will find the CPU board variants currently available from FORSIS with their availability status.
| Generation | Bezeichnung | CPU Typ | Status | Abkürzung |
| --- | --- | --- | --- | --- |
| 6G | SKYLAKE | I-Celeron 3955U | End of Life | 6G / CEL |
| 6G | SKYLAKE | I3 6100 | End of Life | 6G / I3 |
| 6G | SKYLAKE | I7 6600U | End of Life | 6G / I7 |
| 8G | WHISKEY LAKE | I3 8145UE | Phase off | 8G / I3 |
| 8G | WHISKEY LAKE | I5 8365UE | Phase off | 8G / I5 |
| 11G | TIGER LAKE | CEL 6305UE | Full in production | 11G / Cel |
| 11G | TIGER LAKE | I3 1115G4E | Full in production | 11G / I3 |
| 11G | TIGER LAKE | I5 1145G7E | Full in production | 11G / I5 |
FORSIS model series in connection with the CPU variants
| Baureihe | 6G / Cel | 6G / i3 | 6G / I7 | 8G / i3 | 8G / i5 | 11G / Cel | 11G / i3 | 11G / i5 |
| --- | --- | --- | --- | --- | --- | --- | --- | --- |
| PROFI | eof | eof | eof | phase off | phase off | full in prod | full in prod | full in prod |
| MASTER | eof | eof | eof | phase off | phase off | full in prod | full in prod | full in prod |
| EXPERT BS | eof | eof | eof | phase off | phase off | full in prod | full in prod | full in prod |
| EXPERT SBC | eof | eof | eof | phase off | phase off | full in prod | full in prod | full in prod |
| MOBILE | eof | eof | eof | phase off | phase off | full in prod | full in prod | full in prod |
Future-oriented through FORSIS upgrade strategy

Due to the modular structure of the FORSIS industrial PC, a board change to a current CPU technology is always possible. The term "long-term availability" therefore not only necessarily defines the timeline for how long a motherboard is produced by the manufacturer, but also how long the industrial PC can be maintained by replacing motherboards and how long a model series is delivered.
The case shape remains the same
The fasteners and brackets can be reused
Installed cabling and feeds can remain in place
Contactless reading systems can still be used.
6th generation not WIN11 certified
The uncertainties mentioned regarding the certified CPU generations by Microsoft in connection with Windows 11 have given us and our customers a fright . Especially with our industrial PCs, long-term planning for investment security is a matter of course. Consequently, terms of at least 5 years are the norm. Investing in a CPU variant that is already known to cause problems due to a lack of WINDWOS update support does not make sense. Especially since the industrial PC has a much longer term than the normal PC.
8th or 11th generation are WIN11 certified
The current delivery situation for electrical components and complete units is extremely difficult. However, the 11th Gen has a higher chance of getting boards in a reasonable time frame. The procurement market for electronic components in the 6th and 8th generation of processors is problematic. Expect delivery times of up to 30 weeks. As a result, the evaluation phase of TIGER LAKE started earlier than planned. Our PROFI series in particular offers a lot of scope for integrating new boards at short notice.
| | | |
| --- | --- | --- |
| Main data | Intel® Core™ i3-8145UE | Intel® Core™ i3-1115G4E |
| Product range | 8th generation Intel® Core™ i3 processors | 11th Gen Intel® Core™ i3 processors |
| Launch date | Q2'19 | Q3'20 |
| lithograph | 14 nm | 10 nm SuperFin |
| CPU Specifications | | |
| Number of cores/threads | 2/4 | 2/4 |
| Max Turbo Clock Speed | 3,90 GHz | 3,90 GHz |
| basic clock frequency | 2,20 GHz | 2,20 GHz |
| Cache | 4 MB Intel® Smart Cache | 6 MB Intel® Smart Cache |
| Bus clock frequency | 4 GT/s | 4 GT/s |
| Power Dissipation (TDP) | 15 W | 15 W |
| storage specifications | | |
| Max memory size | 64 GB | 64 GB |
| memory types | DDR4-2400, LPDDR3-2133 | DDR4-3200, LPDDR4x-3733 |
| Max. number of memory channels | 2 | 2 |
| Max memory bandwidth | 37.5 GB/s | |
Of course: technical advantages of the 11th generation
The processor was developed by Intel® against the background of the next great industrial revolution, Industry 4.0, or the Internet of Things (IoT). In the coming years, the data from such IoT devices will be used in retail, industrial equipment and digital signage, for example.
The areas of application of Tiger Lake are almost limitless.
The processor has been optimized for the IoT markets and also for use in FORSIS industrial PCs and now offers extended temperature resistance for cold and harsh environments, functions such as time-coordinated computing or functional security design elements.
The sources for this information can be found on the Intel® Homepage. They can be read there in detail. We have taken over the most important points:
Increased performance all round
The 11th generation Intel® Core™ processors are based on the third generation 10 nm microarchitecture and not only offer up to 23% more single-thread performance and up to 19% higher multi-thread Perfomance. But also 2.95x the graphics performance when compared to 8th Gen Intel® Core™ processors.
Protection against attacks.
Embedded devices and industrial control are vulnerable on multiple fronts. Hackers can exploit hardware and network vulnerabilities. Intel® provides platform boot-level security, data-at-rest security, and data-in-transit security. New security features like Intel® Total Memory Encryption (Intel® TME) complement capabilities like Intel® Boot Guard.
Industrial versions
11th Gen Intel® Core™ processors come in two classes, embedded and industrial. They provide a solid foundation for robust, durable devices. The extended temperature range is particularly interesting for the FORSIS industrial PC.
Key dates of the Tiger Lake generation
Peak clock frequency up to 4.4 GHz
Intel® Iris® Xe graphics with up to 96 EUs
Support for up to 4x4k60 HDR or 2x8K60 SDR
Intel® Deep Learning Boost
Up to DDR4-3200/LPDDR4x-4267
Thunderbolt™ 4/USB4 and PCIe* 4.0 (CPU)
Intel® Time Coordinated Computing (on select SKUs)
In-band ECC and extended temp (on select SKUs)
Intel® Functional Safety Essential Design Package (Intel® FSEDP) (on select SKUs)
The Core i series serves the largest market segment; among them, Intel offers the PENTIUM and CELERON processors, while the XEON processors are intended for servers. Below is the history of development:
Sandy Bridge since 2011,
Ivy Bridge since 2012,
Haswell since 2013,
Boradwell since 2014,
Skylake since 2015,
Kaby Lake since 2016
Coffee Lake since 2017
since 2019 WHISKEY LAKE
since 2020 TIGER LAKE
With the categories i3, i5, i7 and recently i9, Intel divides the processors into performance classes. The assignment does not depend on the socket, but on various processor properties. This is how it plays:
- Number of cores,
- the hyperthreading support,
- the width of the storage connection and the
- support for short-term overclocking (turbo mode) plays a role,
- but also features like Trusted Execution Technology (TXT) as well
- Portions of the cache may be disabled on processors with lower model numbers.
However, this classification is not a reliable indicator of performance. So it is quite possible that a Core i5 desktop processor calculates significantly faster than a Core i7 for notebooks. The Core i7 processor series is initially intended for the high and maximum performance segment. Core i5 is positioned just below the Core i7. At the beginning of 2010, new dual-core processors (i3 and partly i5) in 32 nm production followed, with which the older Core 2 Duos were replaced.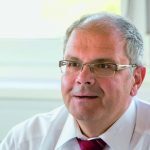 "Wir beantworten gerne Ihre Fragen."