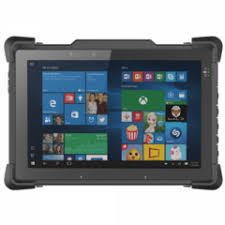 Industrial tablet PC as an alternative to the stacker terminal
FORSIS offers three different variants in the field of mobile forklift terminals. Marked by touch screen technology and intended use. However, the classic forklift terminal is usually permanently connected to the industrial truck to ensure the power supply.
The freedom of movement is therefore "only" given by the wireless hand-held scanner.
More and more tablet PCs are therefore being used for mobile data collection.
They are an alternative in the logistics environment, but they are also increasingly being used to collect data in the production environment. Their possible uses are diverse.
But there are also downsides when using industrial tablets, these are also listed below.
The construction of the devices convinces more and more with low weight, stability and a robust housing.
The numerous interfaces for communication and the operation of standard operating systems and applications are perfect for integration into daily operations.
With the help of the capacitive touchscreen, the tablets can be operated quickly and easily with a finger or pen.
Optional hardware components also expand the areas of application and enable error-free and more efficient work:
Front camera
Rear Camera
2D barcode reader.
RFID Reader
Here we would like to briefly shed light on some aspects that are not necessarily decisive, but which have been discussed time and again in many discussions.
Long-term availability - IT structure - image creation

FORSIS offers a long-term availability of 5 years for all products. This means that you will receive exactly the same device from us over this period of time. This gives you the security of being able to think and plan for the long term in your applications and IT infrastructure.
Unfortunately, we cannot offer you the full range of industrial tablet PCs, because we are dependent on the manufacturers of these products. Our partnership with MSI certainly brings a minimum of availability and planning security. In relation to the normal FORSIS cycle, however, it is rather for a short period of time.
Product diversity
From the wide range of industrial tablet PCs on offer, we have limited ourselves to one variant in which we have seen the maximum expansion options. We want to stand behind the product and offer you the usual service for the industrial tablet with our extensions.
That is why we only offer a very limited range of products.
The application must decide
Many unhappy employees have led to solutions with industrial tablets being dissolved again or being switched to the classic recording devices. In most cases, mixed solutions have arisen. We would be happy to tell you personally about our experience.
Especially in cases and projects in which FORSIS industrial PCs are used, it is advantageous to also equip the mobile devices with the same RFID reader. The big advantages are:
Exactly the same reading methods and
The identical interface connection USB HID or COC available
You can therefore also work with the same application at all acquisition stations
System
onBoard Intel Kaby Lake CPU, cores 2x, threads 3x, socket BGA1356

Thermal Design Power (TDP) 15W

Memory Memory Type 8 GB DDR4
Control panel / LCD
Display Type TFT-LCD with max. resolution 1920 x 1200 in aspect ratio 8 : 5

luminance 800 cd/m²

Touchscreen: type multi-touch 12.2", capacitive technology with 10-point input
Extension possibilities
Network connections: Wi-Fi and Bluetooth
Wireless Wi-Fi protocol 802.11 a/b/g/n/ac

Bluetooth Type v4.2
External I/O
Display 1x Micro HDMI

Audio 1x Line Out

Mic-In 1x

Ethernet 1x RJ-45

USB USB v3.0 1x
Sensors
3D Sensor Accelerometer

3D Gyroscope

E-Compass Yes

Light Sensor Yes
The protection class decides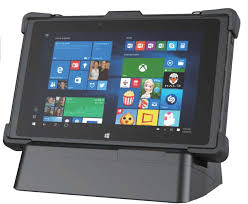 Industrial tablets can be divided into two categories. Semi-rugged and rugged, with the main difference being the MIL-Std 810G approval. Your purpose of use also corresponds to your classification: that semi-rugged tablets can only be used in an office and medical environment. On the other hand, the rugged series can also be used in tough industrial and logistics environments. We rely on a rugged variant here.

Temperature operation -10° to 50°C

Protection class (IP) IP65 (complete)

Vibration Reference Standard MIL-STD-810G

Shock reference standard MIL-STD-810G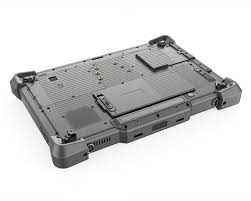 The decisive advantage.
As with the stationary devices from FORSIS, e.g. PROFI and EXPERT, we offer the option of identifying the employee with an RFID tag on our industrial tablet PC. This makes sense, for example, if you want to ensure that the employee is authorized for certain processes, such as using a vehicle. In addition, the RFID technology offers the possibility, for example, to create logs of travel times.
FORSIS offers the following RFID processes:
LEGIC prime / LEGIC advant

MIFARE classic / MIFARE DESFire / EV1 125 kHz

ISO14443A (CSN / UID)

ISO15693 (CSN / UID)
The reading unit is completely integrated in the tablet PC housing. USB HID or serial transmission can be selected as the data interface.
Dimensions of the 12.2" variant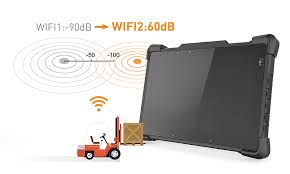 12.2" form factor
Dimensions: Length 318mm / Width 214mm / Height 27mm
Weight 1800g
Controls: Power / 1x Reset
Docking station for stationary use.
Many additional interfaces on the docking stations extend the use. The most important addition and the LAN connection are clear here

Mobile stations for the industrial truck:
Contact security is important here. The industrial tablet must sit firmly in the holder. So that the power supply is guaranteed.
Mounts for the employee:
Handles for the tablet and carrying options are of course among the possible options.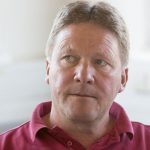 "Wir beantworten gerne Ihre Fragen."