Stainless steel printer station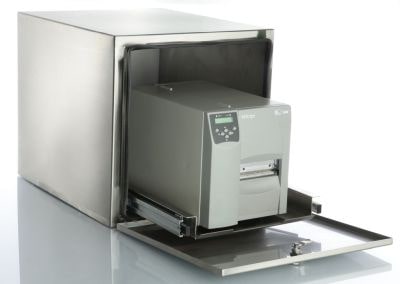 Stainless steel printer station from FORSIS
FORSIS completes its product portfolio for the hygiene-sensitive area with the stationary stainless steel printer station, which can also be used as a protective housing for mounting on the wall.
The individuality of the stainless steel printer station lies not only in the different possible uses, but also in the different dimensions in which it is available, but above all in the fact that customer requirements can be implemented. The flexibility lies in being able to realize almost any size for the customer and optionally equipping every stainless steel printer station with a printer pull-out.
As in every area, the holistic solution is again in the foreground for FORSIS, taking into account hygiene and functionality in handling for the food processing industry as well as for pharmaceutical companies.
Practical storage space for printers in hygiene-sensitive environments
Degree of protection IP69 on the front according to EN60529
Hygienically safe design according to HACCP and EHEDG with regard to mechanics and construction
Simple and effective cleaning ensured by preventing liquid build-up and dead spots
Printer pull-out for easy refilling of labels
Cable feeds on request - please do not hesitate to contact us!
Stainless steel printer station - wall mounting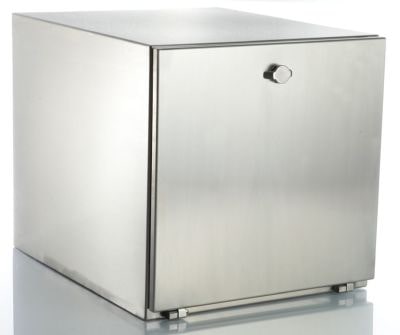 Wall mounting makes it easy to clean
Mounting the printer station directly on the wall naturally has the advantage that the floor can be cleaned completely and easily. The cable can be fed in directly. However, the problem of cleaning between the stainless steel printer box and the wall can play a role here again. FORSIS offers stainless steel spacers here. So that the "hand" intervenes for cleaning.
The mounting points (straps) for fastening can be designed according to customer requirements. This means that the stainless steel printer box can not only be mounted at the rear, but also at the side. Talk to us here.
The industrial terminal impresses with the very best in service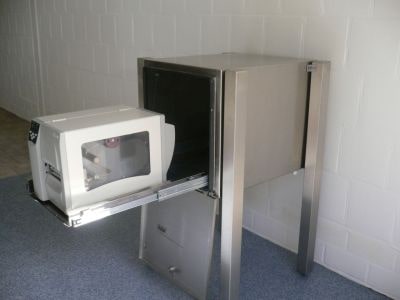 If it is necessary that the stainless steel printer box is free, feet can be added. The power supply can be supplied from the ceiling or the floor via PG screw connections or crimp connectors. On the picture you can see the extract for a printer.
"We will gladly answer your questions."

For FORSIS as a holistic solution partner, it is particularly important to be able to realize every customer request. Our strength therefore lies in being customer-oriented and flexible in our way of working.
We have seldom realized stainless steel printer stations that would have looked alike. Let us know your requirements - we will be happy to make you a non-binding offer for your personal stainless steel printer station.