PCAP multitouch - capacitive touchscreen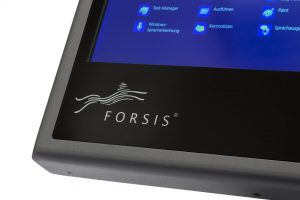 PCAP multitouch and 16: 9 - future standard for IPCs?
Although the development of capacitive touchscreen technology dates back to 1982, it wasn't really well known until 2007 with the first smartphone from Apple. The display unit presented at the time could already process up to five touch impulses at the same time and was called "MultiTouch" by Apple.
Since then, the trend towards mobile devices with multi-touch screens has continued unabated. Almost every second German citizen over the age of 14 has a smartphone, and one in ten has a tablet.
The resounding success of the slim all-rounder is largely based on their simple operation using finger gestures. In 2011 Microsoft presented an operating system that supports multi-touch as standard.
Multi-touch screens, which are used in the mobile and industrial environment, generally use the "projected capacitive touch screen" technology, which is also known under the names PCT (Projected Capacitive Touch) or ProCap or PCAP for short.
In contrast to resistive touchscreens, which react to pressure by means of a plastic membrane, PCAP versions are provided with a protective glass pane (cover lens) on the front and back, which at the same time ensures high resistance and good visual representation.
FORSIS reports on multi-touch technology, PCAP for short, and its advantages for industrial PC users.
FORSIS is one of the first IPC manufacturers to include PCAP touchscreens in its range. The first models to be equipped with it are the PROFI S, developed for stationary industrial applications.
High-quality, high-contrast LED backlight displays in widescreen format 16: 9 are used for this. In addition to the standard size with a diagonal of 18.5 "(47 cm), an extra size with 21.5" (54.6 cm) is also available. The following operating systems are available: Windows XP, Windows 7 and Windows 8.1 as well as a Linux OS for server-based computing environments.
The models of the PROFI S 1850 MT and PROFI S 2150 MT series, modern Intel Core i3 and i7 CPUs, are used as the main processor. The powerful Ivy Bridge processors of the particularly efficient embedded class (ULV version) thus offer a high level of future security and performance - for example for resource-intensive JAVA applications or complex visualizations.
In conjunction with a suitable viewer, employees can then switch back and forth between several applications very quickly and conveniently or rotate, slide and zoom complex CAD objects using simple two-finger gestures.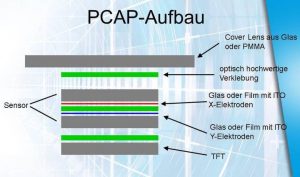 Because the touch sensor is securely located on the back of the cover glass, it can be operated on the glass surface without wear.
In order to achieve a particularly high level of robustness, the sensor is often firmly glued to the protective glass and the LED display. This "optical bonding" prevents the ingress of dust and moisture. If necessary, particularly strong protective glasses can also be used.
Another advantage of the capacitive touchscreen PCAP compared to other multi-touch technologies is the high degree of design freedom. The protective glass can extend over the entire front and, similar to smartphones and tablets, form a consistently smooth, elegant and easy-to-clean surface.
In this case, all parts that surround the display are covered by a layer of color, which is printed on the back of the cover glass.
Complex calibration: who's doing it?
In order to function properly, the PCAP touchscreen must be precisely calibrated. This is by no means trivial, because its capacitive field is constantly working outwards. All environmental influences such as front glass, metal housing and display must be filtered out using special processes.
In addition, the touchscreen should usually be adjusted so that operation is possible even with thick leather gloves. Manufacturers and solution providers usually take on this complex task.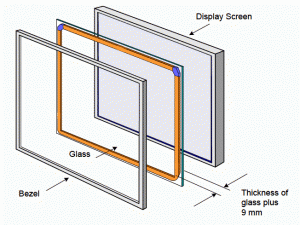 FORSIS also uses its specific know-how to relieve the user of any set-up effort even before delivery. In addition to calibration, this also includes installing the necessary touch drivers. However, this is only necessary for Microsoft Windows XP and Windows 7, as the drivers are included as standard from Windows 8 onwards.
In this way, all FORSIS devices with multitouch function are delivered to the customer fully equipped and only need to be connected in the best plug & play manner.
"We will gladly answer your questions."