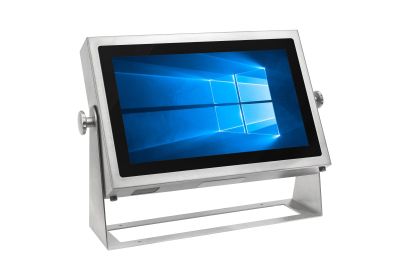 Overview of the IP protection classes
IP65 protection class or even IP69k characterize a standard that we have consistently implemented in our EXPERT series.
Whether rain, cleaning agents, grease, blood or oils, our EXPERT terminals are always IP69k-tight on the front. This is the only way the terminals can also be used in hygiene-sensitive areas. On the connection side, you can choose between IP65, IP67 and IP69k, depending on the cable cover and assembly options. The highest possible protection class of the EXPERT series is then IP69k all around.
Our PROFI series is ideal for dust-protected industrial PCs. These terminals are specially developed for the harsh industrial environment. In parts of heavy industry, protection classes of IP52, IP54 and IP65 are required. Production dust, dirt and oils must not be deposited inside the terminals. For the best possible protection, the PROFI terminals are always IP65 on the front. The terminals cannot be affected by moisture on the front. On the connection side, the protection class up to IP54 can then be freely selected.
The focus of the development of our industrial terminals is the special use in an aggressive production environment. The EXPERT series from FORSIS are protected against the ingress of moisture with special seals and adhesive techniques. All screw connections are encapsulated on the inside. Pressure equalization valves ensure an optimal climate.
All of these protective measures serve, for example, to ensure that all equipment can be cleaned at high pressure by a cleaning team after production has ended, without water getting into the electronics. In special cases it is also possible to use a heater with thermostat control. Applications in low temperature or outside areas are therefore possible below -20C °.
The protection type designation is always given with IP + two code numbers. These indicate the scope of protection a housing offers with regard to foreign bodies / dust (first code number) and moisture or water (second code number).
Protection against dust and foreign bodies, the first number is the following:
0 no protection
1 Protection against solid foreign bodies with a diameter of ≥ 50 mm
2 Protection against solid foreign objects with a diameter of ≥ 12.5 mm
3 Protection against solid foreign objects with a diameter of ≥ 2.5 mm
4 Protection against solid foreign objects with a diameter ≥ 1.0 mm
5 Protection against dust in harmful quantities
6 protection, dustproof
Protection against water, the second code is the following:
0 no protection
1 Protection against dripping water
2 Protection against dripping water when the housing is inclined up to 15 °
3 Protection against falling spray water up to 60 ° from the vertical
4 Protection against splashing water on all sides
5 Protection against water jets (nozzle) from any angle
6 Protection against powerful water jets
7 Protection against temporary immersion
8 Protection against permanent immersion
9k protection against water with high pressure / steam jet cleaning
"We will gladly answer your questions."