Panel PC resistive of the PROFI series
The resistive Panel PC of the PROFI series is designed for stationary use in an industrial environment. Particular attention was paid to the development of a device that can be used consistently for different customer requirements.
From the simplest BDE feedback to complex visualization, the PROFI line offers everything you could want in a resistive Panel PC.
The resistive touch panel ensures that this Panel PC can be operated even when wearing gloves. It is also calibration-resistant and insensitive to surface moisture. The perfect device for a demanding industrial environment!
A solid and reliable Panel PC requires a robust and compact housing that can withstand greater loads. All installed components must be protected against external influences and anchored accordingly. Vibration, dust, oils and flying sparks, for example, are unavoidable in the manufacturing environment - paired with occurring temperature fluctuations, this is a major hardware challenge.
FORSIS has made precisely this challenge its core business and across all products, the experience of 25 years of company history has been successfully incorporated into the construction of the Panel PCs. Numerous industrial companies in almost all manufacturing sectors actively use Panel PCs from FORSIS.
The PROFI device series is therefore ideally suited for all areas of application, such as production areas in need of protection, environments with high air humidity, substrates shaken by vibrations or fastening systems, high and low temperature areas.
See the overview of protection classes.
The special features of a FORSIS PROFI resistive panel PC 
LCD sizes: 10,4", 15", 17" and 19" in 4:3 format
21,5" in 16:9 format
Analog resistive panel PC:

easy operation with fingers, gloves, stylus, etc.
has laminated glass effect, i.e. if the resistive touch panel breaks, there is no glass splinter

Degree of protection: IP65 on the front 
RFID reader integrated in the front: LEGIC© (advant), mifare© (DESFire) and hitag©
Resistive front area of the Panel PC according to customer requirements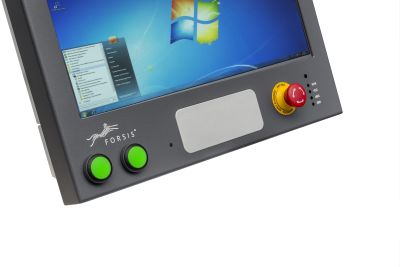 An advantage of the FORSIS PANEL PC with resistive touch technology that should not be underestimated is that the front can be designed completely freely. In this example picture you can see:
RFID reader -The plastic cover on the front of the resistive Panel PC offers the option of installing non-contact reader systems. LEGIC © (advant), mifare © (DESFire) or hitag © are available.
Special function keys - Integrated function keys; A maximum of four buttons can be designed as required, connection by keyboard controller via USB HID.
Status display - two additional LEDs are available.
Optional 2D barcode reader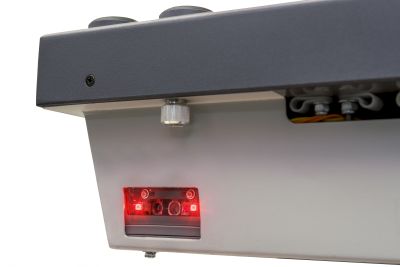 As an alternative or in addition to the external barcode reader, there is the option of permanently integrating a 2D barcode reader into the access protection of the resistive panel PCs.
This is suitable for the resistive panel PC of the PROFI series if there is a desire to read a barcode by hand. The data is passed on via USB / HID.
Standard interfaces with cable strain relief

All cable connections are on the back of the resistive panel PC and go downwards.
Four to six screw are attached to a carrier to relieve strain on the cables. In this way, the cables are bundled and the interface connector is relieved.
Replacing a device is child´s play, as the strain relief plate can be easily removed and remains in place.
Connector and access protection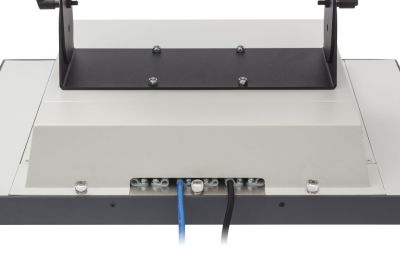 To protect the plug connection, the entire connection side of the resistive panel PC can optionally be closed with a protective cover. The cover is secured by two stud bolts and two knurled screws.
Several versions of the cable outlet are available, such as RITTAL pinch technology or classic PG screw connections.
"We will gladly answer your questions"

WLAN connection according to IEEE802.11 ac/g/n combined with Bluetooth V4.0
All FORSIS devices can optionally be expanded with a Wi-Fi module

The CPU board offers a MINI PCIe slot so that any Wi-Fi adapter can be integrated

The FORSIS antenna consists of 3 differently oriented individual antenna systems

Depending on the number of antenna connections on the Wi-Fi card, these can be combined as required

The antennas work in the 2.4GHz - 5 GHz range. This means that Bluetooth signals can also be sent to these antennas, especially with the combination Wi-Fi adapter Wi-Fi 802.11 ac/g/n standard and blueetoth V 4.0 are supported

The robust antenna has protection class IP65
Casing
CPU housing made of sheet steel / front made of aluminium 
Surface
Powdered outside, galvanized inside
Protection class
Front: IP65 according to DIN EN 60529/VDE 04
Connection: IP65 according to DIN EN 60529/VDE 04
Wireless antenna
Prepared for IP65 protected antenna housing
Access protection
Protective cover for the connections can only be removed with a tool
Attachment
On the back VESA100 bracket with M6 threated bolts
System board processor
6th generation processor - SKYLAKE, DUAL CORE, four threads

Celeron 3955U 2x2,0 GHz Cache 2 MB

i3 6200U          2x2,3 GHz Cache 3 MB

i5 6400U          2x2,4 GHz Cache 3 MB

i7 6600U          2x2,6 GHz Cache 4 MB

Chipset
INTEL-U-series (Skylake architecture) included in the chipset

Grafic card
onboard, INTEL HD Graphics 520/210

Random access memory
NON-ECC, DDRL/DDR3L-RS and LPDDR3 dual SIMM up to 16 GB

Data storage connection
SSD, M.2 format

BIOS
AMI UEFI 128bit including Secure Boot and TPM encryption in UEFI MODE

Network ethernet 
2 x 1 GBit/S Wake on Lan, S5 capable Port 1: INTEL 100 / Port 2: INTEL 210 GIGABIT

Connections (can be used externally)
USB: 4 x USB Type A2.0
Video: 1 x HDMI 1.4 and 1 x VGA
Ethernet: 2 x RJ45 (1GBit/s)
Serial: 2 x RS232 (DB9 connection socket, 1 x optional with Vcc on PIN9)
Power connection IEC cable

Optional interface
Serial: 2 x RS232 (DB9 connection socket)
The peculiarities of an industrial computer compared to the conventional PC are of course primarily in its shape and design, i.e. the panel PC is optimized for the respective purpose and environment. Specifically, this can mean: increased temperature range, use in hygiene-sensitive environments, mobile on vehicles and much more.
In addition, the resistive panel PC from FORSIS offers hidden options that make it suitable for special purposes. These small differences are mostly implemented in the form of additional boards or hardware. In order to fully exploit their possibilities, they must be configured before delivery. This step is carried out by the FORSIS Support GUI. The entire FORSIS series and their add-ons can be configured here.
Setup routine when starting the resistive panel PC to determine which additional functions are in the form of add-ons on supported boards.
Central monitoring of the entire periphery from one point
Representation of all device-specific data of the resistive panel PC, such as device type, serial number, expansion level, etc. This means that specific questions can be asked for a support request and thus more targeted help can be given
The log function: the condition of the device is constantly monitored during operation. In the event of an error or critical condition, an entry is made in the corresponding log file. There is a general log file and a log file for each board so that errors can be traced more easily.
A setup is available for the support GUI which enables installation on a newly installed operating system to be no problem (all required drivers are also installed)
The screen brightness of the resistive panel PC can be adjusted using key combinations.
Autostart: minimized in tray mode.
Various BIOS values from the system, chassis and BIOS categories can be read out by the resistive panel PC. The processor, RAM and hard disk are read out from the motherboard itself. FORSIS sets the system values, also customer-specific: 
System: manufacturer, version, serial number, product, UUID/GUID, SKU, family
Chassis: manufacturer, version, serial number 
The direct access via API to the mainboard values (live) supplements and extends the board settings. These include temperature, fan speed, voltages and currents, etc. Furthermore, the display brightness can be adjusted via the board.